With the $20 price increase that Amazon recently made on Amazon Prime membership (from $79 to $99 per year), the company needs to justify the increase by offering more member benefits. Amazon has been touting the free monthly streaming videos and other Prime features.
In addition, on April 24, 2014, Amazon introduced Prime Pantry, a service available to Amazon Prime members only, which is seemingly based on the U.S. Postal Service Priority Mail Flat Rate boxes, where you pay one rate no matter the weight or where the package is going.
The Prime Pantry website states, "Adding your first Prime Pantry item to Cart starts a Prime Pantry box. As you shop, you see that each Pantry item tells you what percentage of a Pantry box it fills based on its size and weight. Pantry boxes are large and can hold up to 45 pounds or four cubic feet of household products. As you check items off your list, we continuously track and show you how full your box is. You can buy as much or as little as you want for a flat $5.99 delivery fee per Prime Pantry box."
Items available from the Pantry system include beverages, specific food and snacks, standard cooking supplies, personal care items, cleaning items, and pet food.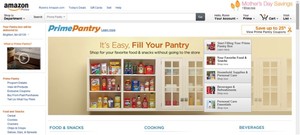 Note that the per-box fee is additional beyond the yearly $99 membership fee. Thus this "benefit" is also a revenue generator for Amazon.
Continue reading "Amazon Introduces Prime Pantry, a New Feature for Prime Customers" »