The social web has hundreds of millions of users who spend incredible amounts of time posting and responding about any and every possible aspect of their personal and professional lives. Many of these users are prospects and/or customers who use the social web to get help in evaluating and selecting the products and services that they want to or need to buy and in installing and using those products and services after they've bought them.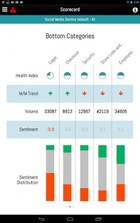 These users want to leverage the experience and expertise of their peers, who are also social web users, who have already made these purchasing decisions or have already encountered these installation and usage problems. These users have also come to expect that the products' and services' suppliers are listening to their social conversations and will contribute timely and accurate answers and solutions. Get it?
Clarabridge Analyze and Clarabridge Act Deliver Social Customer Service
Clarabridge Analyze and Clarabridge Act comprise a product suite that can help suppliers deliver social customer service.
We had published an evaluation of Clarabridge 5.5 on March 28, 2013. Since that date, Clarabridge, Inc. has made significant improvements to the offering within two new versions: Clarabridge 6.0, which was introduced in April 2013 and Clarabridge 6.1, the version we evaluate in our report, which was introduced in November 2013.